Institute for Hazard Mitigation Planning and Research
Helping Rural Counties to Enhance Flooding and Coastal Disaster Resilience and Adaptation
In the United States, flooding is a leading cause of natural disasters, with congressional budget office estimates of $54 billion in loss each year. Rural communities, that are often overlooked, face unprecedented challenges due to rising water levels, particularly since 2012, which have resulted in increased coastal flood hazards. Despite their flooding risk, they continue to lack flood hazard assessments and inundation maps, exacerbating their vulnerability. The Federal Emergency Management Agency (FEMA) commonly recommends counties use a freely available tool—called HAZUS; however, existing data gaps limit the analytical potential of HAZUS in rural areas. Continued use of standard datasets for HAZUS analysis by rural counties could likely leave the communities underprepared for future flood events. This project's vision is to develop methods that use remote sensing data resources and citizen engagement (crowdsourcing) to address current data gaps for improved flood hazard modeling and visualization that is scalable and transferable to rural communities.
Research Approach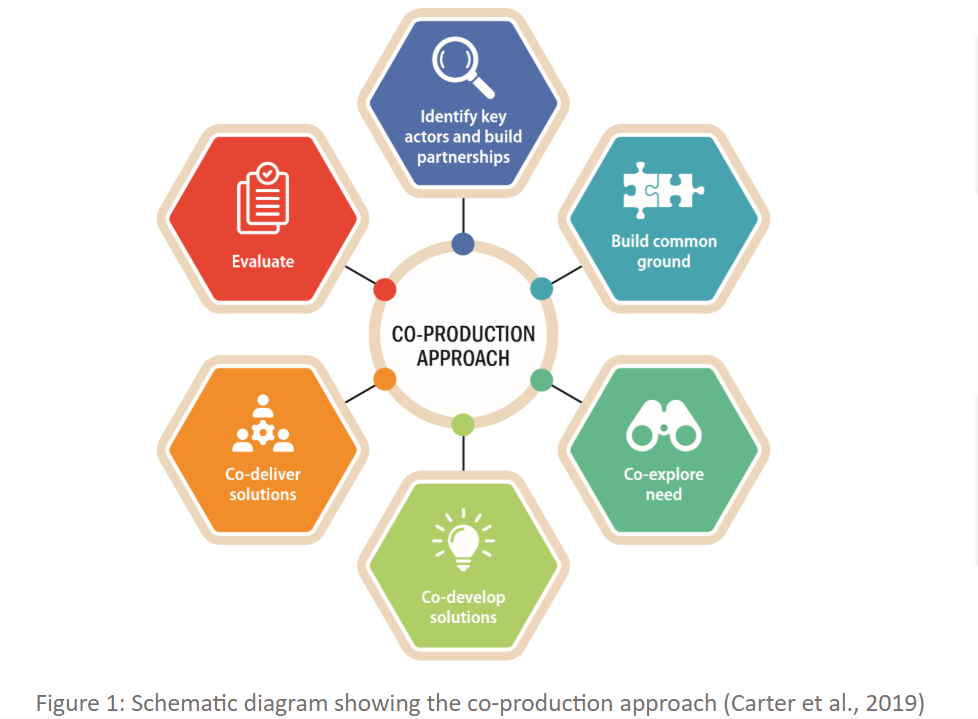 A key aspect of this research is the coproduction of knowledge. Through this six-step approach, we are building solutions in partnership with various stakeholders and residents. This partnership is expected to facilitate broader adoption and continued development beyond the present project duration.
Specifically, the research will promote intellectual discovery by i) improving our understanding of remote sensing data sources and open-source processing methods to assist rural communities in addressing the data gaps in flood hazard modeling, ii) developing sustainable geospatial visualization tools for communicating hazards to communities, iii) advancing our understanding of the utility of combining remote sensing and crowdsourcing to flood hazard delineation, iv) understanding ways to incentivize the crowd for greater participation to help improve natural hazard modelling accuracy, and v) identifying critical community resilience indicators through crowdsourcing. These advancements will lead to prepared and resilient rural communities that can effectively mitigate hazards related to lake level rise and flooding.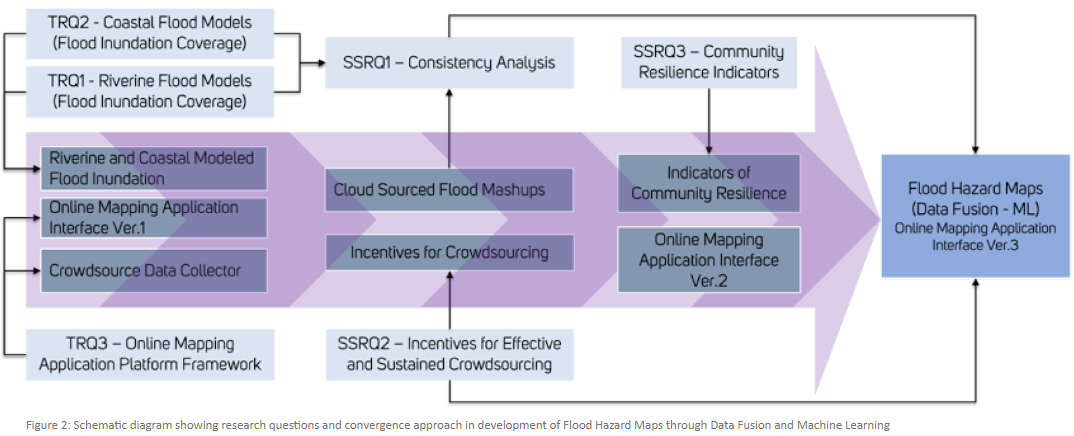 Interactive Data Visualization and Opensource Geo-analysis Platform
One of the objectives of this project is to facilitate communication of flood hazard information. This was a key concern expressed by community members in the project planning phase. The RHRT (Rural Hazard Resilience Tools) Visualization Platform helps overcome both data and communication gaps associated with flood hazard information for our study area.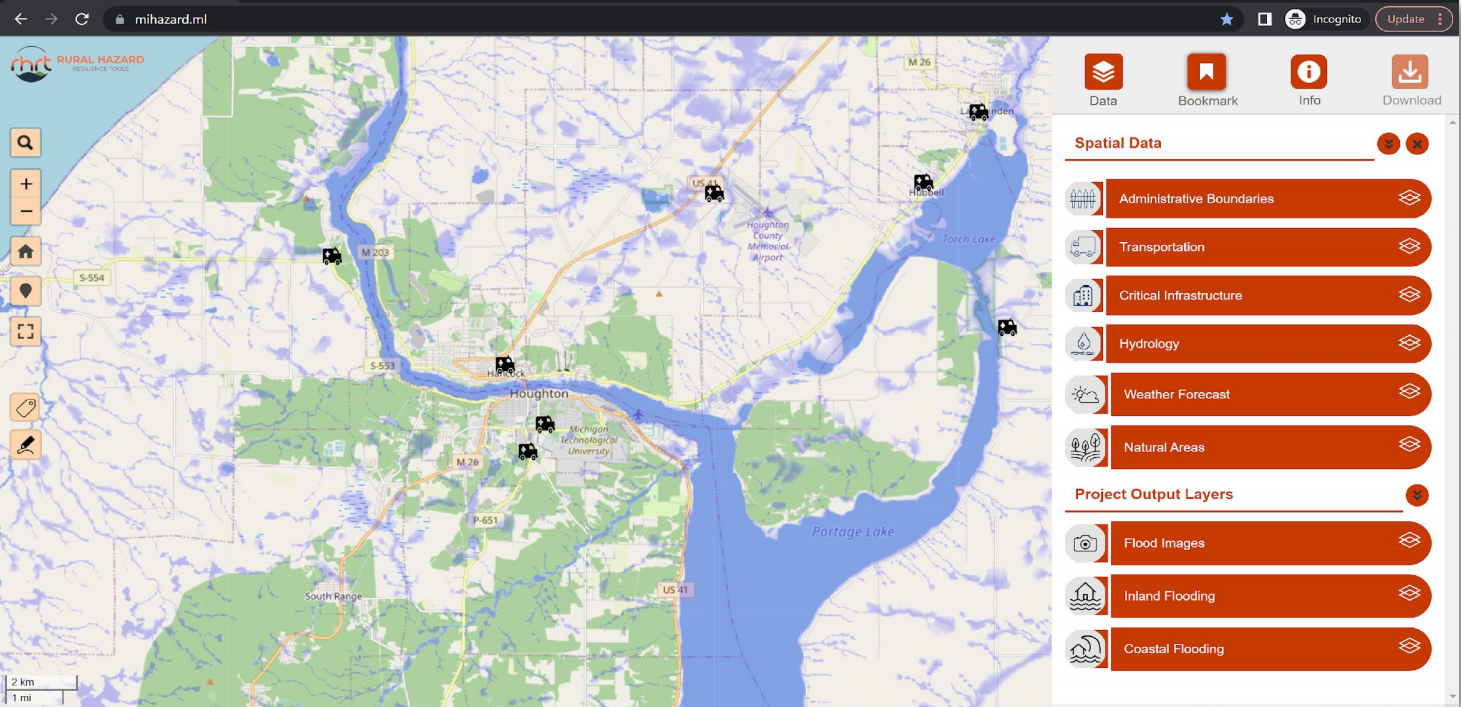 Read more about the RHRT platform on our partner webpage: https://www.wuppdr.org/rhrt
The platform is a hub of all information generated in this project along with contextual data from multiple local, state, and federal agencies. Platform users can enable the contextual data layers to visualize the impact of inland and coastal flooding on critical community assets and private property. Through this platform, users have the ability to access data on relevant resilience indicators that illustrate a community's capacity to withstand an extreme event. They are also able to see mapped images from previous flooding events in their community.
The RHRT platform has been developed in close collaboration with our civic partner (WUPPDR) who will host and maintain this online database in the future. The platform uses open-source tools that do not require licensed software for long-term management. With the continued support from NSF, the project team is now working on expanding these project solutions to serve other rural counties in the Western Upper Peninsula region.
Project Partners

This material is based upon work supported by the National Science Foundation (NSF) under Grant Nos. SCC-CIVIC-PA-Track B 2042881 SCC-CIVIC-FA-Track B 2133279. Any opinions, findings, and conclusions or recommendations expressed in this material are those of the author(s) and do not necessarily reflect the views of NSF. For research collaborations and more information on this project please contact Himanshu Grover (groverh@uw.edu)